Cassey, Pojoaque y Laguna
Cassy & Laguna

Goony Bear taking a nap on Jim's Computer.




Laguna loves the winter grass we planted for her.

Pokie wants in too!




Pojoaque is King of the House
in the cat's Christmas present.

Now it's Laguna's turn to be
the Princess of the World!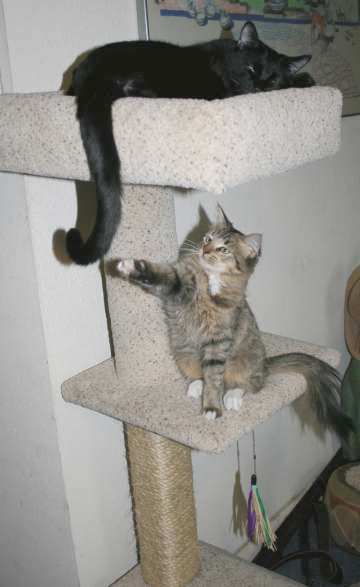 Laguna's favorite toy
has always been
Pojoaque's black tail.
| | |
| --- | --- |
| Laguna | Pojoaque |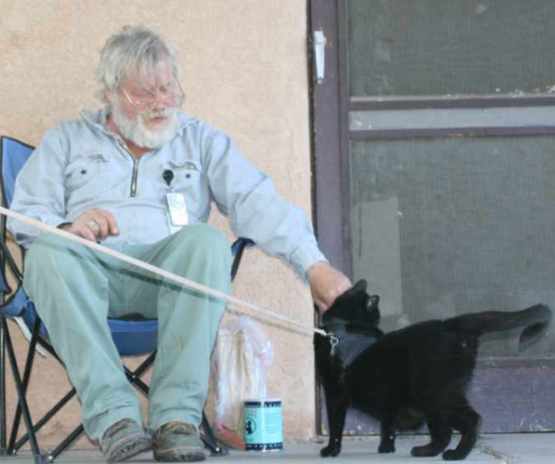 Jim & Pojoaque on the Front Porch
I've always kept my cats indoors & Jim always let his cat live outdoors. He understands my feelings and agrees with me, but when we first married, we had too little "indoors" for all the cats we have. Jim fixed the backyard so the cats can go into the backyard only. Now they can have a piece of the outdoors along with the safety that come from keeping cats indoors. Jim also has trained Pojoaque to wear his "bat cape" which connects to a leash for when Jim takes him in the front yard.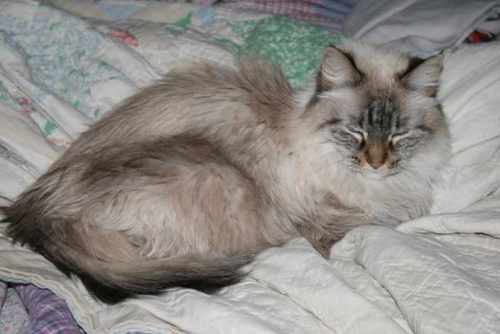 Cassie
Cassie was the last of the pride of "your, mine and our" kitties Jim and I created by getting married. Cassie was very hard to say good bye to, and it has taken me a while before I could update this page. Cassie lived to be about 18 years old. The last day she was alive, Jim and I took turns holding her in our arms. She had been though rough times and good times in her life here, but the later years of her life were full of love. Jim and I adored her. She would sleep between the two of us at night. Cassie gave a lot of love to both Laguna and Pojoaque. She was a wonderful mother to both of them. I'll never forget my blue-eyed girl and she will always be a part of those of us who loved her.