Samuel Barron
Born: Abt 1683, Groton. Middlesex, Massachusetts 109
Marriage: Abigail Woods in Groton. Middlesex, Massachusetts
Died: 9 Jun 1771, Groton. Middlesex, Massachusetts about age 88 109
Buried: 1771, Old Burial Grounds, Groton, Middlesex, Massachusetts 659

Noted events in his life were:
• Background Information. 109
Ellis Barron was born at Watertown Massachusets on 22 Sep 1655. He married at Watertown, 26 May 1679, Mary Sherman, born at Watertown, 5 Mar 1656/7, daughter of Reverand John and Mary (Launce) Sherman.

They lived at Groton, Massachusetts, after their marriage. The daughter Elizabeth is the only child whose birth record can be found. Samuel is proved as the eldest son by a deed from his grandfather, Ellis Barron. Benjamin was mentioned as son of Ellis in Middlesex County Court records. Mary, Grace, Elias and Mehitable , children of Ellis Barron and Mary Sherman, have been located through other records. There may also have been children who died young.

~"The Ellis Barron Family," The American Genealogist, Vol. 20, p. 138
• Epitath. 659

Memonto mori
[Cherub's Head]
Here lies the
Body of Mr. Samuel
Barron who de-
parted this Life
June 9th 1771. In
the 88th year
of his Age.
By his will, Samuel Barron, left to the church of Christ in Groton the sum of thirteen pounds, five shillings, and four pence, the interst to be used for the benefit of the poor.

~Groton Epithaphs, p. 54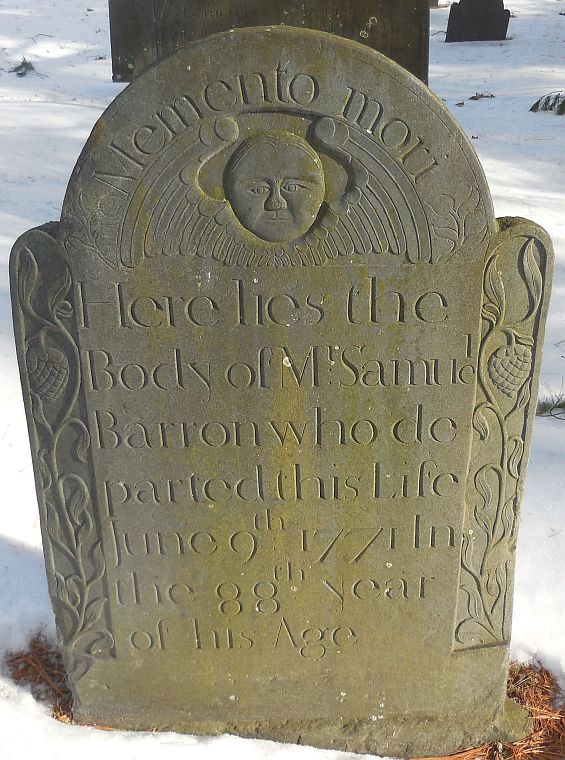 Old Burying Ground
Groton, Massachusetts
Samuel married Abigail Woods, daughter of Samuel Woods and Alice Rushton, in Groton. Middlesex, Massachusetts. (Abigail Woods was born on 9 Aug 1672 in Groton. Middlesex, Massachusetts 109.)