Luz Torres
Marriage: Adolfo Torres on 30 Jul 1885 in San Miguel del Soccoro, Soccoro, Soccoro New México Territory
Buried: San Miguel Catholic Cemetery, Socorro, Socorro, New México 18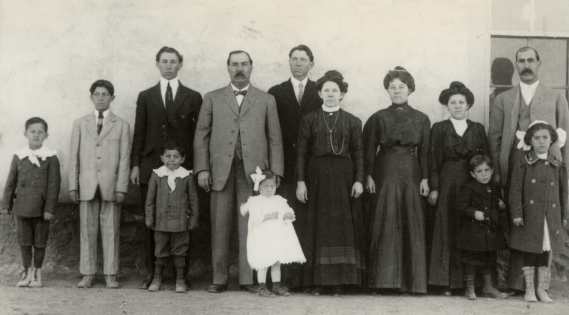 Left to Right Adolfo Torres Jr., Hipólito Torres, Juan Torres and inidetified child, Adolfo Torres Sr. (GGrandfather)
and unidentified child, Ramon López (Grandfather), Luz Torres de Torres (GGrandmother),
Antonia Torres de López (Grandmother), Francisca Torres de Torres with two of her children, and Nepomoseno Torres

Noted events in her life and other information:
• Burial: Found on the Socorro, New Mexico Genweb Data Base. 18
Torres Family Plot:

1. Adolfo 1903-1962
2 Juanita 1887-1954
3. Father
Names 4 and 5 are on the same tombstone
4. Torres, Luz T. 1890
5. Torres, Adolfo, 1856-1946
6. Mother
7. Juan D. 1894-1971
8. Paul 1898-1979
9. Edward E. 1907-1991



Luz married Adolfo Torres, son of Juan José Concepción Torres and Maria Cencion Armijo, on 30 Jul 1885 in San Miguel del Soccoro, Soccoro, Soccoro New México Territory. (Adolfo Torres was born on 27 Nov 1866 in La Joyita, Soccoro, New México Territory,3,18 died on 16 Sep 1946 in Socorro, Socorro, New México Territory 3,18 and was buried in San Miguel Catholic Cemetery, Socorro, Socorro, New México 18.)

Noted events in their marriage were:
• Marriage: 8
30 July 1885 Adolfo Torres, soltero, residence not given, hijo de Juan Torres y Ascencion Armijo con Luz Torres, soltera, residence not given, hija de Jose Torres y Antonia Lucero.