Guillaume "le Jeune" Duc d'Aquitaine et VIII Comté de Poitou
Born: 1099, Toulouse, Toulouse 160
Marriage: Aénor de Châtellerault
Buried: 1137, Santiago de Compostela, Galica 1002

Other names for Guillaume were Willam X "the Saint" Duke of Aquitaine and and Count of Poitou William Duke of Aquitaine Aquitaine.

General Notes:
~Ancestral Roots of Certain American Colonists Who Came to America before 1700, 8th Edition, William VIII was born 1099, and died 9 Apr 1137. He was the count of Poitou 1146-1137, and Duke of Aqitaine. He married Aenor de Châtelleraut, daghter of Aimeri I, vicomté de Châtellerault. 160

Noted events in his life were:
• Web Reference: Charles Cawley's Medieval Lands, Guillaume duc d'Aquitaine .
The Chronicle of Saint-Maxence records the birth in 1099 of "Willelmo comiti…filius æquivoce Guillelmus" [Chronicon sancti Maxentii Pictavensis, Chroniques des Eglises d'Anjou, p. 419.]. Robert of Torigny names "Guillermum…pater…Alienor reginæ Anglorum" as the son of "Guillermus comes Pictavensis et dux Aquitanorum" & his wife "filia (comitis Tolosani fratris Raimundi comitis Sancti Ægidii)" [Chronique de Robert de Torigny I, 1159, p. 319].

Duc Guillaume married Aénor de Châtellerault and they were the parents of Aliénor de Aquitaine, the wife of King Louis VII of France and King Herny II of Britian.

The Chronique de Guillaume de Nangis records in 1136 that "Guillaume comte de Poitou et prince d'Aquitaine" died while on pilgrimage at "Saint-Jacques…la veille de Pâques" and was buried there [Guizot, M. (ed.) (1825) Chronique de Guillaume de Nangis (Paris), p. 18].
• Santiago de Compostela: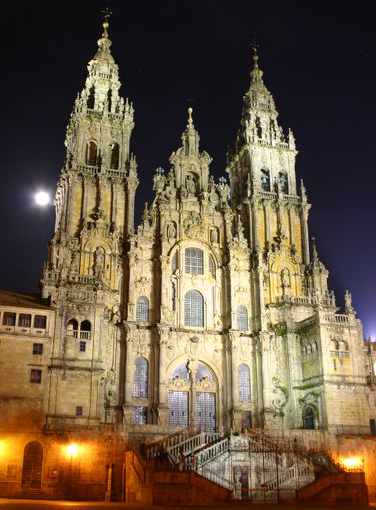 .


Guillaume married Aénor de Châtellerault, daughter of Aumary I Vicomte de Châtellerault and Dangerose de L' Isle Bouchard. (Aénor de Châtellerault was born in 1103 in Châtellerault, Poitou, Aquitaine and died in Mar 1130-1137.)