Sir Richard Sherburne

Another name for Richard was Ricahrd de Bayley.

General Notes:

~ Weis' Ancestral Roots of Certain American Colonists Who Came to America before 1700, 170A:32 160

~ Richardson's Magna Carta Ancestry: A Study in Colonial and Medieval Families, p. 826, names his wife as Agnes Harington, daughter of Sir Nicholas Harington of Haverington, Knight and Isabel, daughter of Sir William English, Knight. 821

Information about this person:
• Background Information. 772
Richard de Sherburne of Stonyhurst, was born in 1381, and married Agnes, daughter of William Stanley of Hooton, Cheshire. . Richard attended the Parliaments of 8 and 9 Henry V, 1420-21, at Westminster, for Lancashire. In 8 Henry VI (1429-1430), we find Richard Sherburne settling certain quarrels that had arisen between half-a-dozen women as to where they should kneel in Church. [Cuerdon MS.; W., ii. 494] He is also mentioned in Sir H. Nichols, Proc. Privy Council, iii. 327, on 4 Jun 1429.

Richard de Sherburne died 19 Herny VI or 1441. His will is an early specimen of English, is dated 3 Jan 1436, and was proved 7 Jun 1441. The inquisition post mortem was taken at Lancaster on Thursday the Feast of St. Lawrence Martyr, 19 Henry VI, or 10 Aug 1441. The jury said that Richard died seised of the manor of Aghton and Hamilton, lands in Baggerburgh and Frekleton, land in Leylond, a quarter part of the manor of Bolton, a moiety of the manor of Wiswall, two burgages in Clitheroe, and together with his wife Agnes of the manor of Lonton, and that said Richard died on Monday before the Pentecost 19 Henry VI (29 May 1441), and that Robert, aged six years, son of Richard, son of the aforesaid Richarch, is the grandson and next heir.

~A History of the Family of Sherborn, pp. 12-15
• Background Information. 822
Richard Bayley, alias Richard Shireburn, adopted his mother's surname. He was born at Stonyhurst on the Feast of St. Wilfrid, 5 Richard II (12 Oct 1381), and baptized at Miltton Church. In 1420, and again in the following year, he was returned to the House of Commons by electors of Lancashire. Richard lived to the year 1440 and was buried before the altar of St. Nicholas at Mitton. His widow survived to 1444. Their son was Richard, who died before his parents.

~ Stonyhurst Hall, p. 49
• Background Information. 979
From Whitaker's History of Whalley, published in 1801:

"In the time of Richard I lived Geoffry, l'Arbalastier, to whom John, Earl of Morton, afterwards king, gave six caracutes of land in Haconsall and Preesal. He had a grandson named Robert de Shyreburne (from what place is uncertain), who had the manor of Hameldon, of his grandfather's gift, and survived to 45 Henry III, having a son, John de Shyreburn (living 40 Henry III), who left Sir Robert Shereburne, knight, senescal of Clitheroe and Blackburnshire, who occurs from 6 Edward I until 16 Edward III, and having married Alice, daughter and coheir of John de Blackburne, of Wiswall, left Sir John de Sherburn, who attended Edward III at the Siege of Calais. He died 29 Edward III leaving Sir Richard who married Alice daughter of William de Plumpton, knight, and left two daughter and coheirs, Margaret and Johanna, of whom the latter appears to have been unmarried. During all this period, it does not appear where the Sherburnes resided ; but Margaret marryed Richard, son of John de Bayley, about 51 Edward III which Richard had licence for an oratory at Stonyhurst, 1372, and dying 2 Richard II, had issure Richard, who took the name of Sherburne. This Richard, son of John de Bayley, was grandson of Jordan de Bayley, who by deed, S.D. had Stonyhurst, by gift of Henry Wath and Margaret his wife. This This Richard de Sherburne was born at Stonyhurst, on the feat of St. Wilfrid, 5 Richard II and baptized in the church of Mitton. He married Agnes, daughter of William Stanley, of Hooton, Cheshire, and died 19 Henry VI."

Taken from Stonyhurst College, Its Past and Present, p. 10
• Web Reference: Sir Richard Shirburne From The History of Parliament: the House of Commons.
• Chapel: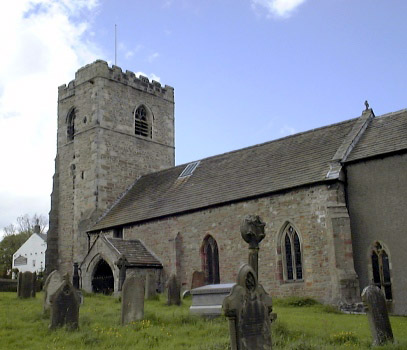 .


Richard married Agnes Harrington, daughter of Sir Nicholas Harington Knight and Isabel English, before 4 Aug 1391 in Lancashire, England.821 (Agnes Harrington was born in Mitton Craven, Yorkshire, England, died after 3 Nov 1444 in Mitton Craven, Yorkshire, England 772 and was buried after 3 Nov 1444 in Mitton Craven, Yorkshire, England 772.)