Juan Montes Vigil
Born: Abt 1709, Nueva España

Another name for Juan was Juan Vigil.

Noted events in his life were:
• Background Information. 252
The known children of Francisco Montes Vigil and his wife María Jiménez de Ancizo were: Maria (wife of Martin Romero and mother of Antonio Romero), Gertrudis, Elena, Domingo (who married Maria Estela Marquez), Francisco (husband of Antonia Jiron and then of Lorenza Medina), Manuel (who married Manuela Sanchez), Juan (husband of Ynez Lopez and then of Nicolasa Lujan, and presumably Pedro (who married Juana Trujillo).

~Origins of New Mexico Families, p. 311
• Baptism: Hispanic Genealogy Newsletter, Aug. 2013.
Juan Montes Vigil, son of "Francisco Montes, mulato" and "María Ximénez, española" was baptized on 20 Mar 1689 as recorded in the book of baptisms of the church of Immaculada Concepcíon in Cienega de Mata in the jurisdiction of Ojuelos, Nueva Galicia. His padrinos were Mateo Gerónimo and María Rodríguez.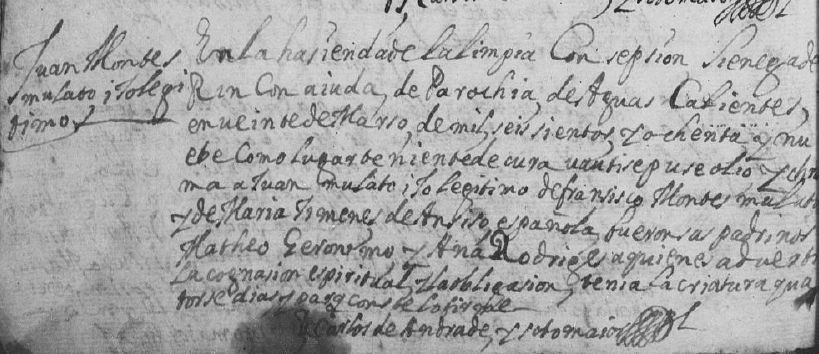 Baptismal record of Juan mulato, of Francisco Montes, mulato, and María Jiménez de Anciso, española. LDS microfilm #640149, México, Cienega de Mata, Immaculada Concepción Church, Baustismos 1670-1723, f.176v. Extracted by Marilyn Herrera Britton.
Juan married Ynez López de Salazar, daughter of Alonso López de Salazar and Lucía Gómez de Arrellano, in 1733 in Santa Fé, Nuevo Méjico, Nueva España 248.,252 (Ynez López de Salazar was born in 1711 in Nuevo Méjico, Nueva España 248.)

Noted events in their marriage were:
• Diligencia Matrimonial. 248
1733, Santa Fe. Juan Montes Vigil (24), native of Mexico City, son of Francisco Montes Vigil and María Jémenez de Ancisco, and Ynes López (22), native of New Mexico and daugher of Alonso López de Salazar and Lucía Gómez de Arellano. ~ Witnesses: Juan Rico de Rojas (40), soldier; Marcos de Armijo (30), native of the city of Zacatecas, married; Nicolás Jiron, native of Mexico City, soldier and married. (Incomplete)

~ Roots Ltd., Diligencias Matrimoniales, pp. 2096-2097