Constance d'Arles
Born: 974-986, Toulouse, Haute-Garonne, France
Marriage: Robert "le Pieux" Capet Roi des Francs in 1001-1003 in France 528
Died: 1033, Melun, France at age 59 528
Buried: St. Denis, Aude, France

Other names for Constance were Constance de Provence and Constance de Toulouse.

General Notes:

~Ancestral Roots of Certain American Colonists Who Came to America before 1700, 8th Edition, 53:21, 101:21, 107:20, 108:21, 128:21, 141:21, 141A:21, 146:19, 162:20, Robert the Pious, King of France, son of Hugh Magnus and Adelaide of Poitou, married Constance of Provence, daughter of William II, comté de Arles y Provence by his wife Adélaide or Blanche, daughter of Fulk II, comté d'Anjou. Robert and Constance were the parents of: Adéle, wife of Renaud I, comté de Nevers; Henry I, King of France who married Anne of Kiev; Robert "the Old", Duke of Burgundy; Adéle or Aelis of France, who married as her first husband, Richard Duke of Normandy and as her second husband, Baldwin V, count of Flanders. 160

Noted events in her life were:
• Web Reference: Constance of Arles.
"Constance was the daughter of William I, count of Provence and Adelaide-Blanche of Anjou, daughter of Fulk II of Anjou. She was the half-sister of Count William II of Provence. Constance was married to King Robert, after his divorce from his second wife, Bertha of Burgundy."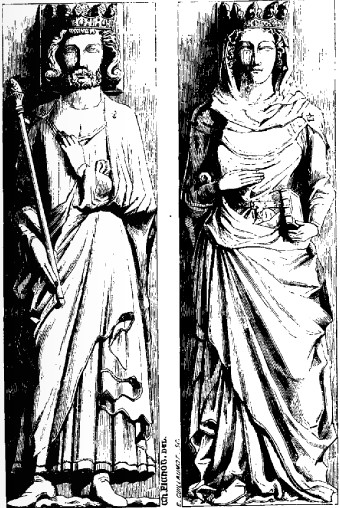 Tomb of Robert 'the Pious' and Constance of Arles at Saint-Denis
• Web Reference: Charles Cawley's Medieval Lands, Constance d'Arles.
The Historia Francorum names "Constantiam, filiam Guillelmi comitis Arelatensis, natam de Blanca sorore Gaufridi comitis Andegavensis" as wife of King Robert[Hugonis Floriacensis, Liber qui Modernorum Regum Francorum continet Actus 9, MGH SS IX, p. 385, additional manuscript quoted in footnote ***. ]. The Chronicle of Alberic de Trois-Fontaines also names "Constantia filia fuit Blanche comitisse Arelatensis" as wife of "Robertus rex"[Chronica Albrici Monachi Trium Fontium 1013, MGH SS XXIII, p. 780].
Constance married Robert "le Pieux" Capet Roi des Francs, son of Hugues Capet Re des Francs Occidentale and Adélaide de Poitou reine des France, in 1001-1003 in France.528 (Robert "le Pieux" Capet Roi des Francs was born on 27 Mar 970-972 in Orléans,160 died on 20 Jul 1031 in Meulan, Aquitaine, France 160,528 and was buried in Basilica of St. Denis, Paris, France.)