Roger "the Sheriff" le Bigod Earl of Norfolk
Born: Bef 1150, St. Saveur, Calvados, Normandy, France 141
Marriage: Ida Countess de Toeni in 1207-1212 160
Died: 1221 Before 2 Aug, Evesham, England 850

Another name for Roger was Roger Bigot.

Noted events in his life were:
• Dates & Events: Magna Carta Sureties, 1215. 141,526,851

• Domesday Book. 214
Roger is listed in the Domeday book. He comes from Les Loges, Calvados. His duaghter married Robert de Stafford. He was Sheriff of Norfolk and Suffolk in 1086, and the ancestor of the Bigot (Bigod) family, and the Earls of Norfolk. He had large land holding in Essex, Norfolk and Suffolk.
• Children. 722
Children of Hugh le Bigod and Ida:
• Hugh, d. Feb 1224/25, m. Maud Marshal, who married William Plantagenet de Warren after Hugh's death
• William
• Ralph, married Berta de Feerers
Roger
• Alice, m. 1207, Aubrey de Vere IV, widower, son of Aubrey de Vere III by his third wife Margaret, m. William de Hastings.
~Boyer's Medieval English Ancestors of Certain Americans, pp. 29-30
• Background Information. 851
Roger Bigod, the Surety, was born about 1150 and succeeded as the second Earl of Norfolk and Suffolk upon his father's death. He was appointed in 1189, by King Richard, as one of the ambassadors to Phelipe of France for obtaining aid for the recovery of the Holy Land. In 1191, he was keeper of the Hereford Castle, and in 1195-1202, he was Chief Judge in the King's Court. In 1200, King John sent him as a messenger to summon William the Lion, King of Scotland, to do homage to him in the parliament which was held at Lincoln, and to attend King John into Poitou. On his way back, Roger Bigod was won over to the cause of the rebel Barons, and became one of the strongest advocates of the Charter of Liberty. He was excommunicated by Pope Innocent III for this. He died before Aug 1221. His first wife was Isabella, daughter of Hameline Plantagenet, who was descended from the Earls of Warren. There eldest son, Hugh le Bigod, was also a Surety. Other children were William who married Margaret, the daughter of Robert Sutton; Thomas; Margery, wife of William Hastings, Adeliza, wife of Audley de Vere, Earl of Oxford; and Mary, wife of Ralph Fitz Robert of Middleham.
~Wurt's Magna Charta, p. 44
• Background Information. 141
Roger le Bigod, son of Hugh le Bigod and Juliana de Vere, attended the Council of Clarendon, 1163/64. He was with the King at Pembroke, Oct 1171, waiting to cros to Ireland. At the battle of Fornham in 1173, he bore the Standard of St. Edmund, under which royal forces he fought with. He became responsible for the balance of his father's fine, 1164/65 when his father died. He was with the King at Windsor and the young King at Westminster sometime in Apr 1189. Early in 1182, Henry forgave the fine for his father's debt and retored his father's land to him. It wasn't until after after 3 Sept 1189, that he was finally made the Earl of Norfolk.

Starting in 1191, Roger is a judge, both at Westminster and on eyre in the provinces. He state as one of the Barons of the Exchequer in 1195 and 1196. He was present for both the Coronations for Richard I and for John. He was an acting Royal official in Jan 1214/15, but by June he joined the Barons in their Ultimatum from Stamford to the King, and with his son Hugh, they were among the twenty five Barons elected to maintain the Magna Carta.

Roger's sons were Hugh, his son and heir; William; Ralph; and Robert, who was crossing to the King in Poitou in 1215.
and later was in the Service of Henry III.

~Cokayne's Complete Peerage, 2nd Edition, (Norfolk), Vol. IX, pp. 586-589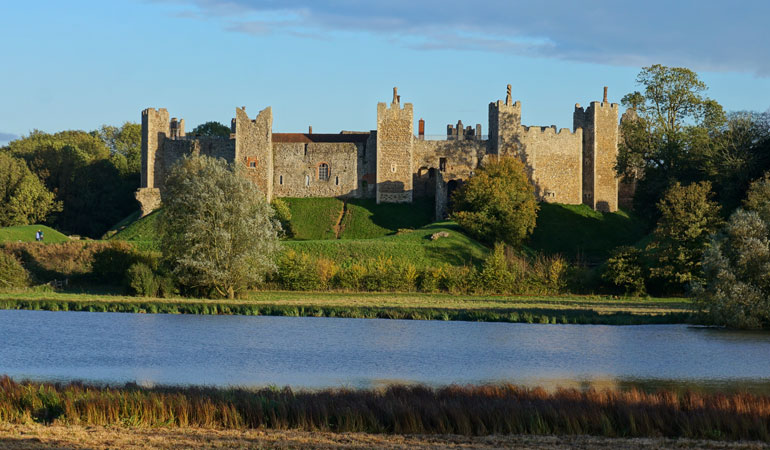 Framlingham Castle
Roger married Ida Countess de Toeni, daughter of Ralph de Toeni Lord of Flamstead and Margaret de Beaumont, in 1207-1212.160 (Ida Countess de Toeni was born about 1155.)