Æthelred II "The Unready" King of England

Another name for Æthelred was Ethelred II, King of England.

General Notes:
~Weis' Ancestral Roots of Certain American Colonists Who Came to America before 1700, 8th Edition, 1:19, 34:19, 235:19, Æthelred II, "the redeless," King of England, 979-1013, 1014-1016, married first in 985, Ælfgifu, daughter of Thored, Ealdorman of Northumberland, married second, Emma, daughter of Richard I, Duke of Normandy and his second wife, Gunnora of Denmark. He was the father of Edmund II, Ironside and Ælfgifu by Ælfgifu, his first wife. Father of Godgifu by his second wife Emma. 160

Noted events in his life were:
• Background Information. 851
Ethelred, born in 969, a boy of ten when he became king in 978, and reigned for thirty-eight years. he was the last of the six Boy Kings. The epithet "the Unready" is actually a mistranslation of a word that means the Rede-less, or the man without counsel. Ethelred died 23 Apr 1016 in London and was buried in St. Paul's. His second wife, whom he married in 1002 was Emma, sister of Richard the Duke of Normandy. She was the mother of Edward the Confessor. Ethelred's first wife was Elfled, daughter of Earl Thorad. They were married in 984, and their eldest son was Edmund II, Ironside.

~Wurt's Magna Charta, p. 176
• Families. 470
Married Abt 985 to Ælfgifu, mother of
Athelstan, b. abt. 986
Ecgbert
Edmund II Ironside, King of England, b. 989
Edred
Edwy
Edward
Edgar
Edith
Ælfgifu
Wulfhilda
Daughter
(Daughter), Abbess of Wherwell
Edric

Married to Ælthelgife

Married 5 Apr 1002, Winchester Cathedral, Winchester, England to Emma of Normandy, mother of:
Edward (St.) the Confessor, King of England, b. Abt 1002
Godgifu (Goda), b. Abt 1009
Alfred Athling, b. Bef 1012
• Dates & Events. 470
Reigned 979-1013 (deposed) and 1014-1016. In the face of Danish raids, he was forced to pay huge tributes to the enemy. He was driven into exile by Sweyn but returned after his death. Died during Canutes invasion of England. Burke says he died 1010. His tomb was lost when the old St. Pauls was destroyed in the great fire of London.
• Web Reference: The House of Wessex - Æthelred II
• Web Reference: Æthelred the Unready.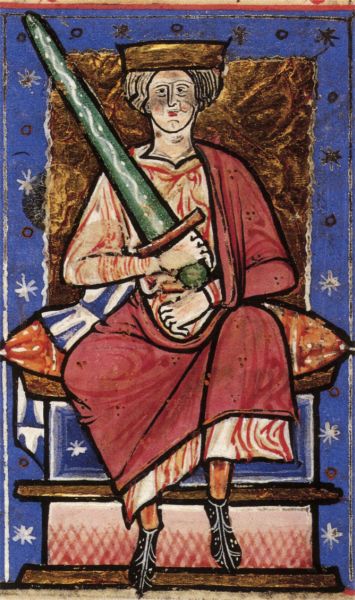 Æthelred married Ælfgifu of Northumberland, daughter of Thored, Earl of Northumbria and Unknown, about 984/985 in Wessex, England 160.,851 (Ælfgifu of Northumberland was born in Northumbria and died in 1002 in England 160.)
Æthelred next married Emma de Normandy, daughter of Richard I "the Fearless" de Normandy Princeps Nortmannorum and Gunnor, in 1002 160.,851 (Emma de Normandy was born about 985 in Normandy and died on 6 Mar 1052 in Winchester, Hampshire, England 160.)