Ramón López
Born: 6 Feb 1885, San Marcial, New México Territory 3
Christened: 15 Feb 1885, San Miguel del Soccoro, Soccoro, Soccoro New México Territory 3
Marriage (1): Antonia Torres on 8 Jan 1908 in Magdalena, Socorro, New México Territory
Marriage (2): Pauline Stapleton
Died: 14 Oct 1966, Alburquerque, Bernalillo, New México at age 81 3
Buried: 17 Oct 1966, Fairview Memorial Park Cemetery, Alburquerque, New Mexico

Noted events in his life were:
• Baptism Record, 15 Feb 1885, Socorro, Socorro, New México Territory. 3
St. Michael's Chhurch, Socorro, New Mexico
The Records of this Church certify, under date of Feb 15th, 1885 in the Babptism of Ramon M. Lopez, born 6 Feb 1885 of Celso López and Maria Abrana Sánchez. Place of Birth San Marcial, New Mexico. Record is signed by Rev. Thomas A Hayes with sponsers (padrinos), Filomeno López and María Batrice López. Reverand John Dold (Present Pastor) Date 27 Sep. 1942
• Census, 30 Jun 1900, Magdalena, Socorro, New México. 4
Celzo López born April 1853 - 47 M Farmer can read Spanish, but not English
Maria A López born Oct 1863 - 37 F can read in Spanish and English
Victoriano López born Oct 1882 - 17 Miner can read in Spanish and English
Ramon López born Feb 1885 - 15 goes to school
Rafael López born Dec 1886 - 13 goes to school
Sastino López born Sep 1892 - 7 goes to school
Benjamin López born Sep 1894 - 5
David J López born April 1896 - 4
Maria Virgina López born Nov 1899 - 1

All born in New Mexico
• Census, 10 May 1910, Magdalena, Socorro, New México. 5
Ramon López 24 M Occupation Blacksmith
Toni López 20 F
• Census, 7 Oct 1918, Belén, Valencia, New México. 382
Males living in Belén in 1918:
Ramon López
Ramon López (Jr.)
Carlos López
• Census, 5 Jan 1920, Belén, Valencia, New México.
Raymond López 33
Tonita López 26
Raymond López 9
Fermine López 7
Charles López 5
Josephine López 1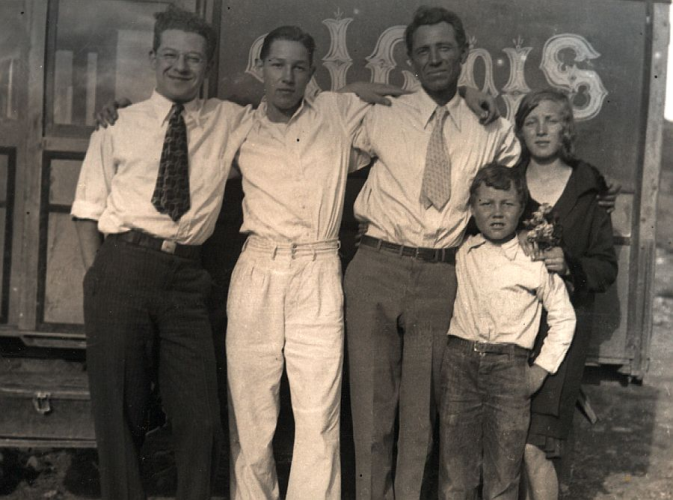 Raymond, Fermín, Ramón, Albert and Josephine López
• Census: 1940 United States Federal, 20 Apr 1940, San José, Albuquerque, Bernalillo, New Mexico.
My grandfather is listed as living on South Arno Street in the San José in Albuquerque along with his second wife Pauline Stapleton. Ramon's age is given as 54 and Pauline's age is 46. The census also states that they lived in Parkview, Rio Arriba, New Mexico in 1935.

[Source Citation: Year: 1940; Census Place: San Jose, Bernalillo, New Mexico; Roll: T627_2439; Page: 6A; Enumeration District: 1-52A.]
• Military Records. 282
My grandfather, Ramón López, registered for the draft in Los Lunas, Velencia, New México on 9 Dec 1918. He gives his age as 33 and his birthdate as 6 Feb 1885. He lists his nearest relative as my grandmother Antonia López. His emoployer was the Santa Fe Rail Road. He is described as tall, with a medium build, blue eyes and dark brown hair.
• Obituary, 16 Oct 1966, Albuquerque, New México Territory. 7
López - Funderal services for Ramón López will be Monday at 2 pm at El Buen Samariano Methodist Church. The Reverend N.E. Gonzales officiating. Burial at Fairview Park Cemetery. Pallbearers Jose López, Reynaldo López, Gilbert Stapleton, Gabe Montoya and Emillo Peralta.

Memorial Services will be at 5:30 pm at the Salazar and Sons Mortuary; López, 81, died Friday. He lived at 1304 Arno SE. He is survived by his wife, Pauline, 4 sons, Raymond of Gardena, California, Charles in Santa Fe, Fermine of San Perdro California and Albert of Riverside, California; a daughter, Josephine Martin of Long Beach, Cal.; a brother, David S. López; 11 grandchildren and 9 great-grandchildren.




Ramón married Antonia Tórres, daughter of Adolfo Tórres and Luz Tórres. (Antonia Tórres was born on 29 Sep 1889 in Kelly, Socorro, New México Territoy 3, christened Oct. 1st, 1889 in San Miguel del Socorro, Socorro, Valencia, New México, Republica de México and died on 14 May 1964 in Long Beach, Los Angeles, California 3.)


Me, Ramón and my brother David - 1955

Marriage Notes:
[source: "New Mexico, County Marriages, 1885-1954," images, FamilySearch Socorro - image 403 of 867; State archives and county courthouses, New Mexico]
• Information. Ramón and Antonio had an arranged marriage, and divorced in the 1920s.
Ramón next married Pauline Stapleton, daughter of Eduardo S. Pedro Stapleton and Emetria Baca. (Pauline Stapleton was born on 4 Apr 1893 in Socorro, Socorro, New México Territory, christened on 23 Apr 1893 in Socorro, Socorro, New México Territory and died in 1969 in Alburquerque, Bernalillo, New México.)