Mabel Cecilia Atwood
Marriage: William Henry Blair on 24 Oct 1906 in Ashland, Saunders, Nebraska 3
Buried: 4 Oct 1962, Ashland, Saunders, Nebraska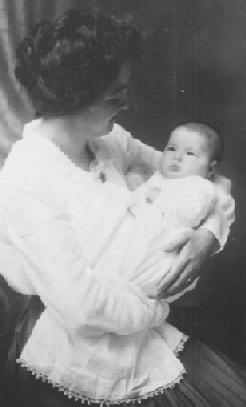 My grandmother holding my mother in 1918

General Notes:

I don't remember much about my grandmother since she died when I was nine years old. I remember she was a very petite woman. Most of what I know about her comes from the stories my mother told me when I was a teen. My mother told me that Mabel, my grandmother and her twin brother were born prematurely. Her family put her in the place in cast iron stoves where people would keep their bread warm. Her twin bother didn't survive their premature birth, but Mabel was a fighter from birth, and she lived a long life.

My grandfather died after my two uncles had grown and left home, but my mother was only thirteen. He had lost everything in the stock market crash on 1929, and left my grandmother and my mother to fend for themselves. My grandmother had always worked at being a housewife, so she took in laundry to wash and iron for other people. This wasn't as easy task at the time. I always remember my mother being close to my grandmother, and I'm sure the hard times they went through during the depression had a great deal to do with their close relationship.

When I was thirteen, I was studying Henry Wadsworth Longfellow's poem, The Courtship of Miles Standish. My mother told me that we were one of the many people descended from John Alden and Priscilla Mullins. - My grandmother and her sister had their genealogy done for them, and a genealogist had traced my grandmother's heritage back to John and Priscilla. She also told me that our heritage could be traced back to Lady Godiva and Eleanor of Aquitaine, and in fact her mother had named her after Eleanor of Aquitaine. Maybe some of the strength that keep my grandmother fighting to survive her premature birth came from genes of these woman so far separated so far away from my grandmother by time.

My mother died when I was eighteen. I often thought about that mysterious genealogy my mother had refered to, but never expected to see. I often thought about my mother, my grandmother, Lady Godiva and Eleanor of Aquitaine over the years. For me the four will always be somehow connected.

Unknown to me, my father wrote Carol Farmer Hayward, my mother's first cousin, and asked if she could help him get a hold of any information relating to my mother's ancestry. Carol send him some amazing information, but for some reason, my father didn't give it to me. My father died about thirty years after my mother did, and it wasn't until about seven years after that, that my stepmother brought me a brown paper bag with my name on it, and all the information Carol had sent to my father. That is how all this started.
Mabel married William Henry Blair, son of Charles W. Blair and Purva Ann Weaver. (William Henry Blair was born on 22 Jan 1878 in South Bend, Nebraska,27,28 died on 4 Nov 1933 in Lincoln, Nebraska 27,28 and was buried on 7 Nov 1933 in Ashland, Saunders, Nebraska.)