Family Links
Spouses/Children:
Unknown

Thomas Corbet
Born: Abt 1281-1285, Moreton Corbet, Shropshire, England 141
Marriage: Unknown

General Notes:

~ Antiquities of Shropshire, Vol. X, p. 188, Eyton merely mentions Thomas Corbet as the son and heir of Robert, and the father of Robert Corbet II. [Supra, Vo. VII, p. 107] 802

~ Boyer's Medieval English Ancestors of Robert Abell, p. 65, Thomas was the son of Sir Robert Corbet and Matilda de Arundel of Tiddeshall, Thomas was married to Amice. 721

Information about this person:
• Background Information. 141,160
Thomas Corbet, of Moreton was born in 1281 or 1285, and died in 1310, leaving son and heir Robert. Robert* was born was born in 1304 and died 3 Dec 1375, his son and heir was Sir Robert *Corbet of Moreton, who married Margaret. Margaret died 14 Nov 1395, and was the daughter of Sir Giles de Erdington. The son of Sir Robert **Corbet and Margaret de Erdington was Robert, who was aged 12 or more in 1395/6, and died 12 Aug 1429. This Robert's second son and eventually his heir was Sir Roger, who died 5 Jun 1467. Sir Roger Corbets's son and heir was Sir Richard Corbet, of Moreton and Shawbury, aged 19 or older in 1667, and died 6 Dec 1492, and left descendants.

~ Cokayne's Complete Peerage, 2nd Edition, Vol. V, (Erdington), p. 88, footnote (a)

Ancestral Roots of Certain American Colonists Who Came to America before 1700, 8th Edition, 29:A30-31, 29B:31-33, calls **Sir Robert, Sir Roger, married t o Margaret de Erdington and gives his parents as * Robert Corbet married to Elizabeth le Strange, daughter of Fulk le Strange and Eleanor Giffard
• Moreton Corbet Castle: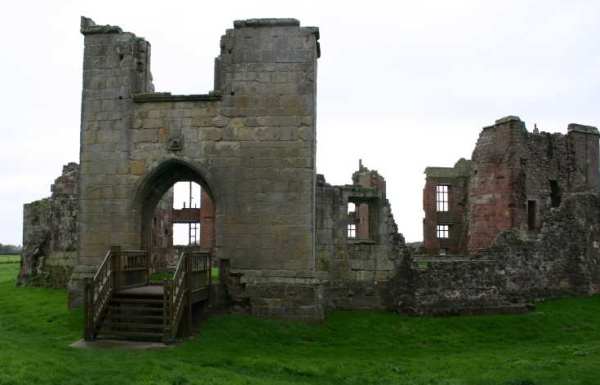 .
• Background Information. 733
Thomas Corbet, was 19 years of age on 25 Dec 1300. Thomas Corbet appears to have obtained possession of all his father's estates, either on coming of age, or else during the lifetime of his mother, Matilda. At the time of Thomas's mother's death in 1310, she was not sized of one of them. Thomas Corbet's death was not far behind his mother's, in 1310, when he is possibly twenty-nine years of age, but not older. His son and hier was Robert Corbet, born 25 Sep 1304.

~ Eyton's Antiquities of Shropshire, Vol. VII, p. 107