Hugh de Lacy Lord of Meath
Born: Abt 1145, Ewyas Lacy, Herefordshire, England
Marriage: Rohese Monmouth
Died: 25 Jul 1185, Durrow, Westmeath, Ireland about age 40 722

Information about this person:
• Background Information. 875
Hugh de Lacy obtained a charter confirming his lands of Stanton Lacy, Ludlow, Ewias and other estates by King Henry II. Hugh complied a list of all who held land under him which was a record called the Liber Niger, or Black book of the Exchequer.

Hugh de Lacy accompanied Henry II in his expedition to Ireland. While in Ireland the King gave by way of his charter the whole lands of Meath, with all their appurtenances to Hugh de Lacy. He also gave Hugh de Lacy the charge of the city of Dublin and appointed him Justiciary of Ireland.

Hugh de Lacy revisited Ireland in 1177 and married a daughter of the king of Connaught without a royal license which lead Henry II to suspect that Lacy intended to found an independent kingdom for himself in Ireland. A temporary escheat befell the house of Lacy and on 25 Jul 1185, Hugh de Lacy was assassinated at Durrow in Ireland.

~Shropshire: Its Early History and Antiquity, pp. 316-317
• Background Information. 722
Hugh de Lacy fought in Wales and Ireland as well as in Auvergne and Normandy from 1166. He married first, Rohese of Momouth, who bore him seven children between 1172 and about 1180. His second wife was Rose O'Connor, daughter of Rory O'Connor, the last king of Connaught.

Children of Hugh and his first wife, Rohese were:
• Walter, b. cir. 1172; d. 1241; m. Margaret de Broase, who d. 19 Nov 1200

• Robert

• Gilbert

• Hugh, b. cir. 1176; d. shortly before 26 Dec 1241, bur. Carrickfergus; m. 1st, Lesceline; m. 2nd Emeline de Ridelisford, who d. 1276, and m. 2nd Stephen Longep้e

• Elayne, m. Richard de Beaufon

• Alice, m. 1st Roger Pipard; m. 2nd Geoffrey de
Marys, Justiciar of Ireland

• A daughter who m. William Fitz Alan

Children by his second wife Rose:
• William
• Thomas
• Henry

~Boyer's Medieval English Ancestors of Certain Americans, pp. 118-119
• Background Information. 879

Henry II, King of England, gave Ludlow Castle to Hugh de Lacy, a descendant, thought not in the male line, of the Lacy family that came to England with William the Conqueror. Emma de Lacy, the sister of Roger and Hugh de Lacy, was the mother of Gilbert, who took his mother's name, and died in about 1135, leaving Hugh de Lacy the new Grantee of Ludlow. This Hugh was a very powerful lord in Ireland, and held both Ludlow & Ewias, and was Custos of Dublin. Henry II feared Hugh's power, and seized Ludlow in 1182. This was followed, in 1185, with the assassination of Hugh de Lacy in Ireland. Hugh's son, Walter, had his father's land restored by Henry II in 1189.

~"Ludlow Castle," Archaeologia Cambrensis, Vol. , p. 189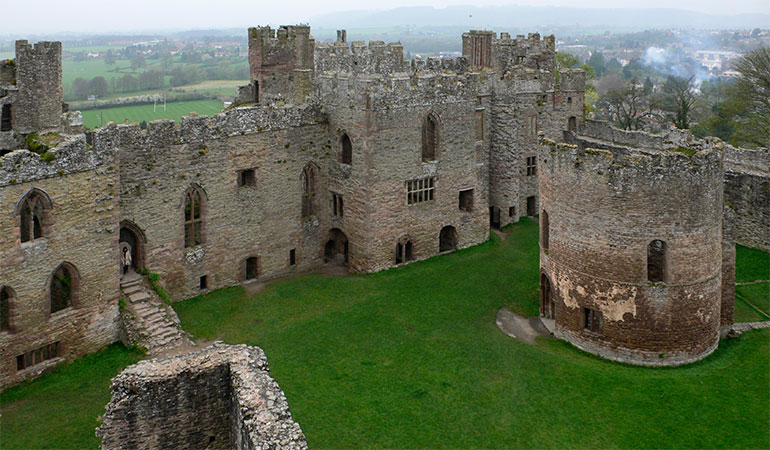 Ludlow Castle
Hugh married Rohese Monmouth, daughter of Badeion Monmouth and Rohese de Clare.