Richard I "Sans Peur" de Normandy Princeps Nortmannorum
Born: Abt 933, Fécamp, Haute-Normandie, France 160
Marriage (1): Gunnor
Relationships (2): "Mistress(es) of Richard I, the Fearless"
Died: 20 Nov 996, Fécamp, Haute-Normandie, France about age 63 160

Other names for Richard were Richard I "le Veil, Richard I "Sans Peur," and Richard "the fearless" of Normandy.

General Notes:

~Weis' Ancestral Roots of Certain American Colonists Who Came to America before 1700, 8th Edition, 1:18, 118:23. 119::24, 119A:22, 121E:20 - son of William I "Longsword" and Sporta, m. 1st to Emma, daughter of Hugh Capet, m. 2nd to Gunnora to make his children with her legitimate, 177:3, 184:1, 214:22m 235:19, 250:20 160

Noted events in his life were:
• Background Information. 141
Richard Fitz Gilbert, styled from his possession "de Bienfaite," "de Clare" and "de Tonbride," was son of Gilbert, comté de Brionne in Normandy, which Gilbert was son and heir of Godfrey, comté de Brionne, illegitimate son of Richard, Duc de Normandie.

~Cokayne's Complete Peerage, 2nd Edition, (Clare), Vol. III, p. 242
• Background Information. 732

When Richard's father, William Longsword, was assassinated in 942, his Uncle, Bernard the Dane, brought Richard from Bayeyx, age ten years at the time, so that he might be solemnly invested with ducal sword and mantle and to receive homage of the Normans. He received the acknowledgement the Norman chiefs. King Louis captured and imprisoned the young Richard under the pretense of providing Richard with an education at Motleon. Richard, with the help of Osmon the Dane who had accompanied Richard to the king's court, was able to escape and return to Normandy. Louis, with the aid of Hugh the Great, attacked the Normans. The Kings of Denmark came to the assistance of the Normans and Louis was defeated.

Richard married Esmé, daughter of Hugh the Great, who died young and childless. Richard married his mistress, Gunnora, who was said to be the sister of Herfaste, a Dane of noble birth. According to Guillaume de Jumièges, Richard had three sons. One was Richard, the second Duke of Normandy, Robert, who became the Archbishop of Rouen, and Mauger or Maugis, who married in 1012 Germaine, the daughter and heiress of Count Bouchard, and because of this marriage, he became Earl of Corbeil. Richard's daughter, Emma, was twice crowned Queen of England having first married King Ethelred in 1002, and then King Canute. She and Ethelred were the parents of Edward "the Confessor. By her other husband, she mothered King Hardicanute. Richard also was known to have at least three illegitimate children. (Much of this may be more myth than truth.)

~The Peshale Family, 870-1913, pg. 30-41
• Web Reference: Charles Cawley's Medieval Lands, Richard "the Fearless".
Guillaume of Jumièges records that, after the rebel "Riulfus" was defeated at the battle of "Pratum-belli", a messenger arrived "a...Fiscannensis castri" and reported the birth of his son to "nobilissima puella Danico more sibi iuncta...Sprota" to Guillaume who ordered him to be sent immediately to "Baiocas...episcopo Henrico" for baptism as "Richardum" [Willelmi Gemmetencis Historiæ (Du Chesne, 1619), Liber III, II, p. 234]. Flodoard records "filio ipsius Willelmi, nato de concubina Brittana" being granted the land of the Normans by King Louis after his father's death [Flodoard 943, MGH SS III, p. 389].
• Web Reference: Richard I of Nomandy by Steward Baldwin.
• Web Reference: Richard I, Duke of Normandy from Wikipedia.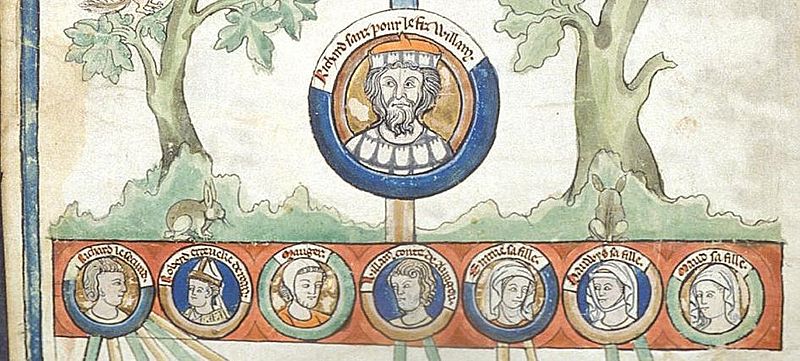 Richard
& his legitimate children
Richard married Gunnor, daughter of "Norman" father and Unknown. (Gunnor was born about 936 in Normandy and died in 1031 in France.)