Rebecca Law
Marriage: Joseph Jewett Ensign on 2 Mar 1676 in Rowley, Massachusetts.595

Noted events in her life were:
• Background Information. ,595
Rebecca was born 1 Apr 1655, died in Rowley 26 Dec 1729 and buried the next day, 27 Dec 1729. The Rowely town records state, "Rebecca Jewet with of Ensign Joseph Jewet who lay long in said disconsolate condition, but was (we hope) lifted into joy December 17, 1729." Her grave stone in the Rowley Cemetary reads:

"Here Lies Ye Body
of Mrs. Rebekah Jewet
Ye Wife of Mr
Joseph Jewet Who
Died December ye 26th
1729 in the 74th
Year of Her Age"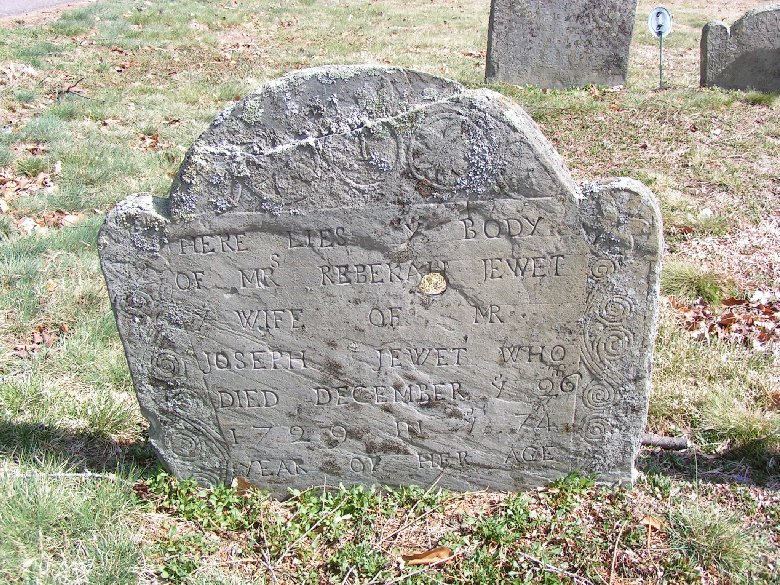 Rowley Burial Ground - Photo by Bill Boyington
Rebecca married Joseph Jewett Ensign, son of Maximilian Jewett Ensign and Ann Cole, on 2 Mar 1676 in Rowley, Massachusetts. (Joseph Jewett Ensign was born on 1 Apr 1656 in Rowley, Massachusetts 299,595 and died on 29 Oct 1724 in Rowley, Massachusetts 299,595.)