Sir Willam Marshall Knight, Third Earl of Pembroke
Born: 1146, Pembroke, Pembroke, Wales 529
Died: 14 May 1219, Caversham, England at age 73 529
Buried: May 1219, Temple Church, London, England

Another name for Willam was Guillaume le Maréchal.

General Notes:

-~Cokayne's Complete Peerage (Berkeley, p.126), identifies him as Maud's brother. (Berkeley, p.127), identifies him as Margaret's brother. (Derby, pp. 19) identifies him as Sybil's father. 141

~Emperor Charlemagnes Descendents, vol. II, p. 18 529

Noted events in his life were:
• Background Information. 260
William was 4th son of John Fitz Gilbert, also styled as John the Marshal, being 2nd son by his 2nd wife, Sibyl, sister of Patrick de Salisbury, 1st Earl of Wiltshire, and daughter of Walter de Salisbury, hereditary sheriff of Wilts and constable of Salisbury Castle, by Sibyl, daughter of Patrick de Chaources (Chaworth). He was born probably in 1146. In 1152 his father gave him as hostage to Stephen at the siege of Newbury, but in spite of the Marshal's bad faith, the King spared the child. At a later date, his father sent him to William de Tancarville, hereditary Master Chamberlain of Normandy, with whom he remained for 8 years as a squire. In 1167 he returned to England and attached himself to his uncle, the Earl of Salisbury, with whom he proceeded early in 1168 to Poitou, where Patrick was ambushed and slain and William was wounded and captured. Eventually he was ransomed by Queen Eleanor and returned to England, where Henry chose him as a member of the Young King's household. In 1173 he was knighted at Drincourt by Tancarville, and supported the Young King in his rebellion against Henry II. Young Henry chose William to knight him, and on his deathbed (11 June 1183) he charged William to carry his cross to the Holy Sepulchre.

When William returned to England circa 1187, the King made him a member of his household. In 1188 and 1189 William was with Henry in France, and in the retreat to Fresnay-sur-Sarthe, he checked the pursuit by the King's rebel son and heir by killing Richard's horse with his spear. He was at Henry's deathbed in Chinon, and escorted the body to Fontevrault.

Richard at once took him into favor and gave him in marriage Isabel, suo jure Countes of Strigoil or Pembroke where upon, according to contemporary chroniclers, William was styled Earl of Strigoil. At the Coronation (3 Sep 1189) he bore the gold scepter with the cross; and shortly afterwards he was appointed one of the subordinate justiciars under Longchamp. Before September 1190 he had fined for 2,000 marks for a moiety of the lands of Walter Giffard, sometime Earl of Buckingham, whereby he became Lord of Longueville and obtained a great addition to his wife's vast estates.

When the Archbishop of Rouen superseded Longchamp in Oct 1191, William became his chief assistant. When John revolted in 1193, William besieged and took Windsor Castle. In Mar 1193/4, he succeeded his brother as hereditary Master Marshal, and in the modest family estates. When hurrying from the funeral rites to join the King, he took part in the siege of Nottingham Castle. From 1194 to 1199 he was mostly with Richard in Normandy. One of Richard's last acts was to appoint him custodian of Rouen and the royal treasure there. After the King's death, William persuaded Archbishop Walter to support John, who sent him to England, where he obtained the support of the magnates at a meeting in Northampton.

William was present at the Coronation of John on 27 May 1199, on which day the King girt him with the sword of the Earldom of Pembroke, whereby he became (if he was not already) Earl of Pembroke. On 20 Apr 1200 he was confirmed in his office of Marshal. In May, he was a surety for the peace with France. He served John actively in Gascony, England, and Normandy and on 22 Apr 1202, he was appointed constable of the castle of Lillebonne. In 1204, he invaded Wales and captured Kilgerran.

Returning to Normandy, he did homage to the King of France for his lands in the Duchy. In Jun 1205 the Marshal joined the Archbishop of Canterbury in forcing the King to abandon his projected expedition to Poitou. From 1207 to 1213 he spent most of his time in Ireland. In Apr 1213 John's desperate position drove him to recall William, and on 15 May 1213, he witnessed John's, charter of resignation to the Pope. He was given charge of the castles of Haverfordwest, Carmarthen, Cardigan and Gower, and Dunamase in Ireland. In 1215 he supported John and was one of his representatives at Runnymede. He was one of the executors of John's will, was present when Henry III was crowned at Gloucester, and was unanimously chosen Regent at a Council held in Bristol on 11 November 1216. On 20 May 1217 he routed the French and the rebel Barons at Lincoln. Some months later he besieged London, and on 11 Sep he concluded the treaty of Lambeth with Louis. In May 1219, on his deathbed, he committed the young King to the care of the Papal Legate. He founded an Austin priory at Cartmel, Lancshire, a Cistercian abbey on the shore of Bannow Bay in Ireland, and priories at Wexford, Duisk and Kilkenny. He was a benefactor to the chapter of Lisieux, the abbeys of Foucarmont, Gloucester, Tintern, Nutley and St. Thomas, Dublln, the priories of Longueville, Bradenstoke, Pembroke, Pill, and Stanley, Holy Trinity and St. Kevin, Dublin, the Templars and other religious bodies.

He married, in August 1189, in London, Isabella, only legitimate daughter and heir (after her brother's death in childhood) of Richard Fitz Gilbert, 2nd Earl of Pembroke, by Eve, daughter of Dermot MacMurrough, King of Leinster. He died 14 May 1219, at Caversham, and was buried in the Temple Church, London. His widow, Isabella died 1220, and was buried at Tintern Abbey.

~Cokayne's Complete Peerage, 2nd Edition, (Pembroke), Vol. X, pp. 358-364
• Web Reference: Royal Berkshire Histroy - William Marshal.
• Web Reference: William Marshal, Earl of Pembroke.
• Castle: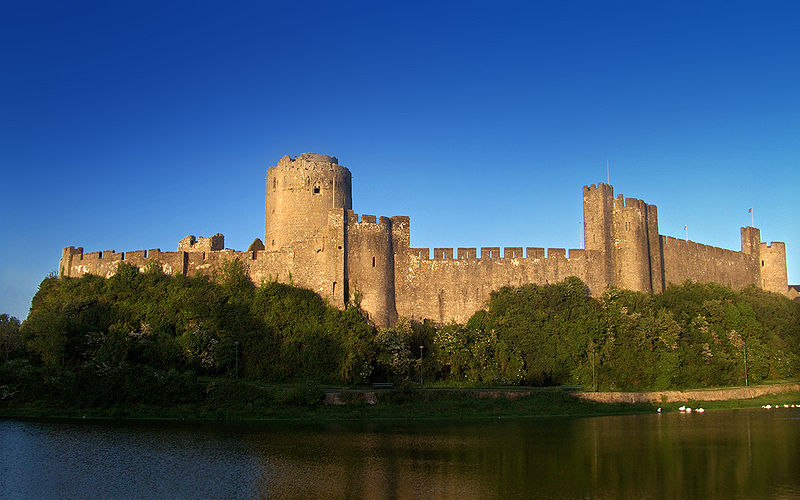 .


Willam married Isabella de Clare Countess of Pembroke, daughter of Richard "Strongbow" de Clare 2nd Earl of Pembroke and Aoife mac Murrough Princess of Leinster, in Aug 1189 in London, England 529.,141 (Isabella de Clare Countess of Pembroke died in 1220 in Pembroke, England 529 and was buried in 1220 in Tintern Abbey, Tintern, Monmouthshire.)