Francisco Montes Vigil
Born: Abt 1651, Zacatecas, Nueva Galicia, Nueva España 252
Marriage: María Jiménez de Ancizo about 1685
Died: 11 Sep 1731, Santa Cruz de la Cañada, Nuevo Méjico, Nueva España about age 80 424
Buried: Sep 1731, Santa Cruz de la Canada, Nuevo Méjico, Nueva España 252

General Notes:
[Sources for the Montes Vigil line: John B. Colligan, Herencia, Vol. 4, Issue 2, April 1999, pp. 1-2, José Antonio Esquibel, "The Montes Vigil Family Genealogy and the Genealogy of the Argüellles Family," Herencia, Vol. 13.2, pp. 2-35 and El Farolito, Volume 2, No. 4, Winter 1999, pages 7-9. "Montes Vigil Direct Lines," pp. 9-10 & "Vigil History," pp.13-14] 1570,1571,1572

Noted events in his life were:
• Dates & Events: Muster Roll of the Colonists who went to new Mexico with Juan Páez Hurtado, 1695. 424
Francisco, his wife and their children came to New México in 1695 with the Juan Páez Hurtado expedition. He is described on the muster roll as thirty, an able-bodied Spanish native of Zacatecas with somewhat curly chestnut hair, and a scar on the left side of his face below his eye.
• Family Background Information. 250
In his second will, Juan Montes Vigil identified his son Juan Montes Vigil, husband of María Jiménez, as his natural (illigitimate) son.

He also named his daughter, María de Herrera Cantillana, in his second will.
• Children. 252
The known children of Francisco Montes Vigil and his wife María Jiménez de Ancizo were: Maria (wife of Martin Romero and mother of Antonio Romero), Gertrudis, Elena, Domingo (who married Maria Estela Marquez), Francisco (husband of Antonia Jiron and then of Lorenza Medina), Manuel (who married Manuela Sanchez), Juan (husband of Ynez Lopez and then of Nicolasa Lujan, and presumably Pedro (who married Juana Trujillo).

~Origins of New Mexico Families, p. 311
• Dates & Events. 252
Francisco Montes Vigil and María Jiménez de Ancizo were colonist from Zacatecas. In 1695, in Santa Fé, he gave his age as thrity years. In 1710 he received a grand of land at Alameda, but sold it two years later.

~The Origins of New México Families, p. 311
• Dates & Events.
Francisco Montes Vigil, in 1712, was the Assistant Captain of the Santa Fe Presidio.
In 1715, he and his wife María Jiménes de Ancisco distributed 40 cattle among several of their children. In 1716 he was in the Moqui campaign with Don Phelix Martinez, Governor and Captain-General of the Kingdom of New Mexico. On August 1720, Lieutenant Francisco Montes Vigil was one of 14 survivors of Lt. Governor Pedro de Villasur expedition force that was massacred by the French and Pawnees near the Platte River in Nebraska.
• Land Grant, Abt 1700. 252
Francisco Montes Vigil was granted land in 1710 in Alameda, Nuevo Méjico.

He later sold the land and moved to Santa Cruz de la Canada. There is a land grant south east of Cordova, New México, in the Carson National Forest known as the Francisco Montes Vigil Land Grant.
• Death, 11 Sep 1731, Santa Cruz de la Cañada, Nuevo Méjico, Nueva España. 250,401
Capitán Francisco Montes Vigil died 11 September 1731 and was buried at Santa Cruz de la Cañada. His burial record, recorded in 1731, gives his age at death as 80 (b.ca. 1650). His wife died fourteen years later on 19 November 1745 and was also buried at Santa Cruz. Her name was recorded as María de Enciso y Ximénez, and she was described as being over age 50.

Researcher: José Antonio Esquibel
Source: Archives of the Archdiocese of Santa Fe, Roll 39, Santa Cruz Church, Burials: 1726-1859.
• Background Information: Hispanic Genealogy Newsletter, Aug. 2013.
Juan Montes Vigil, son of "Francisco Montes, mulato" and "María Ximénez, española" was baptized on 20 Mar 1689 as recorded in the book of baptisms of the church of Immaculada Concepcíon in Cienega de Mata in the jurisdiction of Ojuelos, Nueva Galicia. His padrinos were Mateo Gerónimo and María Rodríguez.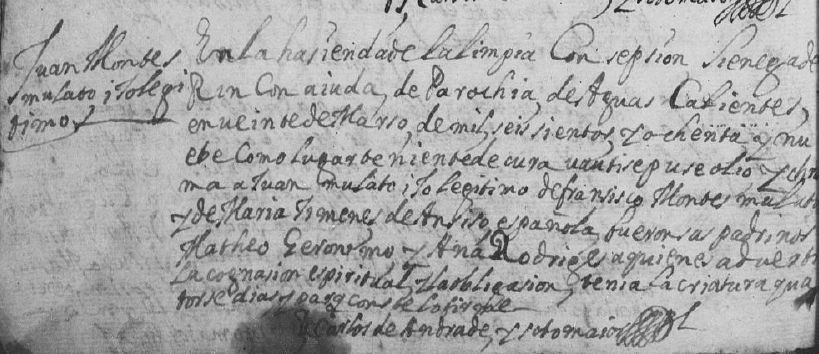 Baptismal record of Juan mulato, of Francisco Montes, mulato, and María Jiménez de Anciso, española. LDS microfilm #640149, México, Cienega de Mata, Immaculada Concepción Church, Baustismos 1670-1723, f.176v. Extracted by Marilyn Herrera Britton.
Francisco married María Jiménez de Ancizo, daughter of Miguel de la Cruz de Lara and Juana de Ancizo, about 1685. (María Jiménez de Ancizo was born in 1674 in Zacatecas, Nueva Galicia, Nueva España, died on 19 Nov 1745 in Santa Cruz de la Cañada, Nuevo Méjico, Nueva España 239 and was buried in Nov 1745 in Santa Cruz de la Cañada, Nuevo Méjico, Nueva España 252.)