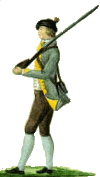 John Bird
(Abt 1750-1830)
John Bird
Born: Abt 1750, Henrico, Virginia
Marriage: Mary Waller
Died: 25 Oct 1830, Greene, Tennessee about age 80
Buried: Herman Church Cemetery, Greene, Tennessee

Noted events in his life and other information:
• He served in the military.
He served as private in Revolutionary war [Hatcher, Patricia Law, Abstract of Graves of Revolutionary Patriots], and applied for bounty land. Married in Washington Co NC which is now Greene County, Tennessee.
John married Mary Waller.
Comments
My New Mexico Roots - My link to the New England Pilgrim settlers & their link to a Web of European Ancestors
© Nancy López