Jean de Brienne Emporer of Constantinople
Born: Abt 1168, Brienne-le-Chateau, Aube, Champagne
Marriage: Berengaria de Léon in 1224 in Toledo, Castilla 160
Died: 21 Mar 1237 about age 69 160

Information about this person: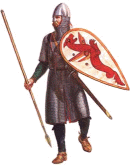 • Web Reference: Crusaders .
Jean I de Brienne (1170-1237) comté d'Eu, King of Jerusalem frim 1210 until 1223, Emperor of Constantinople from 1231-1237, son of Erard de Brienne, found in the Fourth Crusade at Béziers and in the Fifth Crusade.

~Canso de la crozada
• Background Information. 160
~Ancestral Roots of Certain American Colonists Who Came to America before 1700, 8th Edition, 114:28, 120:29, Jean de Brienne, the younger son of Erard II comté de Brienne by Agnes de Montfaucon, daughter of Richard II de Montbéliard, Seigneur de Montfaucon by Sophie de Montbéliard.

Jean de Brienne married as his first wife Mary, daughter of Conrad de Montferrat by his third wife Isabella d'Anjou, daughter of Amaury I, King of Jerusalem. Jean became King of Jersualem by election of the Barons, in right of his wife, who died shortly leaving daughter and heiress, Yolande. As his second wife, he married Stephanie, daughter and heir of Leo, King of Armenia. Jean returned to Europe when his daughter, Yolande married. He was then elected Latin Emperor of Constantinople in 1288. Jean married, as his third wife, 1224, Berengaria of León, daughter of Alfonso IX, King of León and his wife Berengaria de Castile.
• Web Reference: Charles Cawley's Medieval Lands, Jean de rienne.
• Web Reference: Jean de Brienne. Latin Emperor of Constantinople from Wikipedia.
Jean married Berengaria de Léon, daughter of Alfonso IX "el Barboro" Fernández Rey de León y Castile, `The Slobberer' and Berenguela Alfonsez Reina de Castilla, in 1224 in Toledo, Castilla.160 (Berengaria de Léon was born in 1193 and died on 12 Apr 1237.)