Erard II Comte de Brienne

General Notes:

~Ancestral Roots of Certain American Colonists Who Came to America before 1700, 8th Edition, 114:28, 120:29, Jean de Brienne, the younger son of Erard II comté de Brienne by Agnes de Montfaucon, daughter of Richard II de Montbéliard, Seigneur de Montfaucon by Sophie de Montbéliard. 160

Noted events in his life were: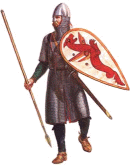 • Dates & Events. 189
He faught in the third crusade and was killed at Acre.
• Web Reference: Charles Cawley's Medieval Lands, Erard de Brienne.
"Walterus Brenensis comes" granted "decimam reddituum suorum de Brena Castello" to the abbey of Basse-Fontaine by charter dated 22 Jan 1143, subscribed by "Airardi filii sui, Andree filii sui, Marie filie sue…Johannis de Brena clerici…Guidonis fratris comitis" [Basse-Fontaine 1, p. 1]. "G comes Brene" donated property to "ecclesie Sancte Marie de Rameruco" with the consent of "uxoris Adelisis, Erardi, Andreæ filium meorum atque Marie filie mee" by charter dated 1147 [Bibliothèque de l'Ecole des Chartes 1861, 5e série, t. 2, p. 456].
Erard married Agnes de Montbéliard, daughter of Richard II Comte de Montbelliard and Shopie de Montbéliard.160 (Agnes de Montbéliard was born in 1150 in Burgogne.)