María Jiménez de Ancizo
Born: 1674, Zacatecas, Nueva Galicia, Nueva España
Marriage: Francisco Montes Vigil about 1685
Died: 19 Nov 1745, Santa Cruz de la Cañada, Nuevo Méjico, Nueva España at age 71 239
Buried: Nov 1745, Santa Cruz de la Cañada, Nuevo Méjico, Nueva España 252

Noted events in her life were:
• Background Information. 424
María is called María Jiménez de Ancisco on the list of colonists who came to New Mexico in 1695 along with the Páez Hurtado expedition. She is called the wife of Francisco Montes Vigil, Spanish born in Zacatecas and the mother of his children.

~The Páez Hurtado Expedition of 1695: Fraud in Recruiting Colonists for New Mexico
• Background Information: Hispanic Genealogy Newsletter, Aug. 2013.
Juan Montes Vigil, son of "Francisco Montes, mulato" and "María Ximénez, española" was baptized on 20 Mar 1689 as recorded in the book of baptisms of the church of Immaculada Concepcíon in Cienega de Mata in the jurisdiction of Ojuelos, Nueva Galicia. His padrinos were Mateo Gerónimo and María Rodríguez.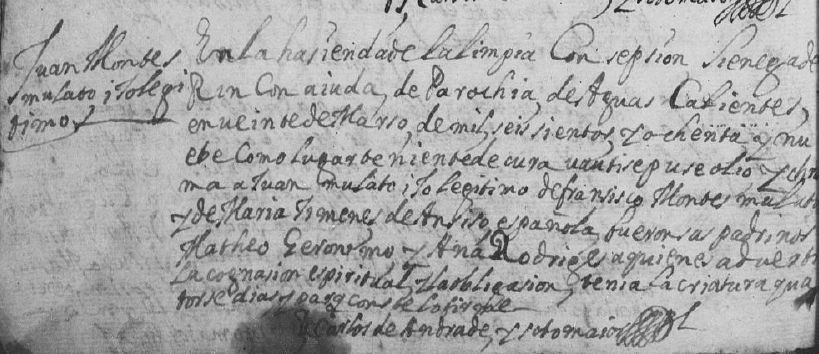 Baptismal record of Juan mulato, of Francisco Montes, mulato, and María Jiménez de Anciso, española. LDS microfilm #640149, México, Cienega de Mata, Immaculada Concepción Church, Baustismos 1670-1723, f.176v. Extracted by Marilyn Herrera Britton.
María married Francisco Montes Vigil, son of Juan Montes Vigil and Unknown, about 1685. (Francisco Montes Vigil was born about 1651 in Zacatecas, Nueva Galicia, Nueva España,252 died on 11 Sep 1731 in Santa Cruz de la Cañada, Nuevo Méjico, Nueva España 401 and was buried in Sep 1731 in Santa Cruz de la Canada, Nuevo Méjico, Nueva España 252.)