Carlos López
Born: 6 May 1913, Magdalena, Socorro, New México Territory
Baptized: 10 May 1913, San Miguel Catholic Church, Socorro, New México Territory
Marriage: Eleanor Blair on 17 Dec 1943 in Los Angles, California
Died: 27 Jun 1995, Santa Fé, Santa Fé, New México at age 82 1
Buried: 29 Jun 1995, Section X Site 531, Santa Fé National Cemetery, Santa Fe, New Mexico 1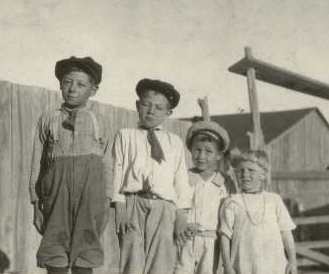 Raymond, Carlos, Fermín and Josephine
Magdalena, New México. The date below should be 1930.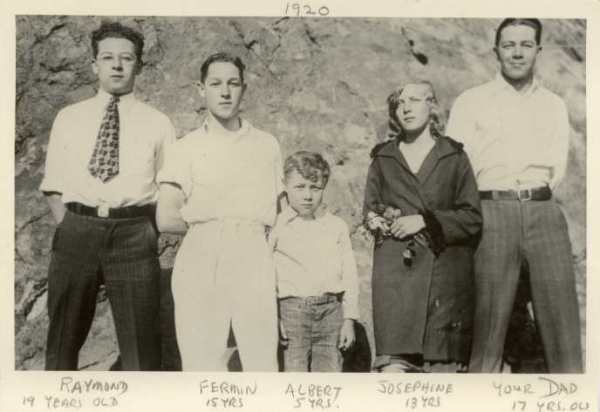 Nancy and Carlos in the early 1990s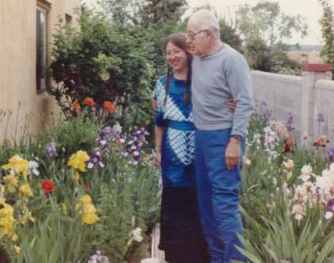 General Notes:

Another name for Carlos was Charles López.

My father, Carlos López dedicated his life to helping other people. He was an educator, a mentor to many and a friend to every person he met. He believed that it was important for Hispanics to obtain an education in order to better the lives of all Hispanics. He lived his beliefs, and helped Hispanics and Non-Hispanics alike strive for a higher education.

He served with honor in the U.S. Army during WWII as a tank commander, and was part of the 70th Tank Battalion during the D-Day invasion of Normandy on Utah Beach.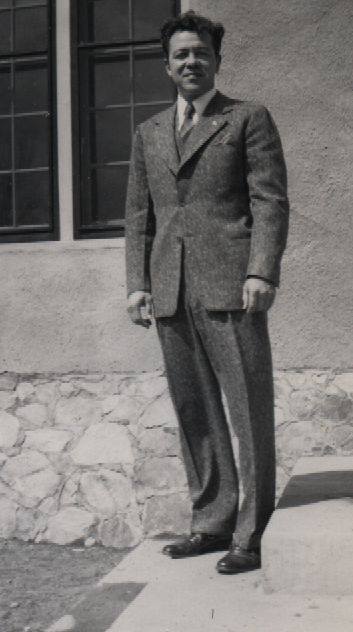 Noted events in his life and other information:
• Padrinos:
Great Uncle, Nepomoseno Torres and Great Aunt Francisca Quica de Torres
• Baptismal Record: Microfilm of original records in the San Miguel Church, Socorro, New Mexico, Baptisms 1865-1931 Confirmations 1877-1919 Baptisms 1894-1921 (San Marcial) Film # 007548725. 2
Found on Family Search Site:


• He served in the military. 1,2
2nd Lt
21 Sep 1942 - 1 Sep 1945
Enlisted 21 Sept 1942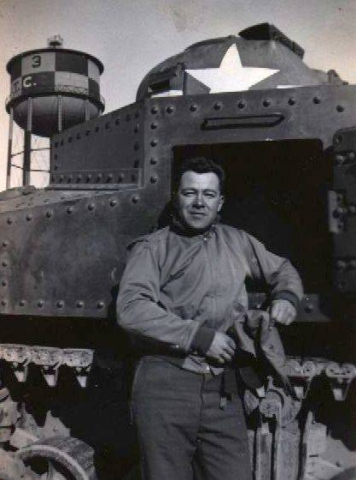 Carlos married Eleanor Blair, daughter of William Henry Blair and Mabel Cecilia Atwood, on 17 Dec 1943 in Los Angles, California. (Eleanor Blair was born on 7 Mar 1917 in Ashland, Nebraska, died on 16 Dec 1971 in Santa Fé, Santa Fé, New México and was buried on 21 Dec 1971 in Santa Fé National Cemetery, Santa Fé, New Mexico.) Carlos next married Conchita Lucero in Santa Fé, New México in 1977. They were married until his death in 1995.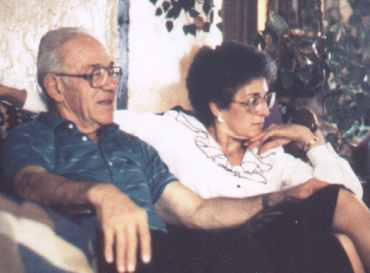 Carlos & Conchita